The best upland sheep in Britain are 'hefted', a phenomenon where they are instinctually attached to a certain area of land. They know this land intimately: where's best to go when a storm hits, where the natural salt lick is found, and how heavily to graze the ground. This territorial knowledge is passed on from mother to lamb, and it's strong - Cumbrian farms may have a "landlord's flock" that has to be sold to stay with the farm, as if moved elsewhere the sheep will just walk over the fells back to their 'heaf'.
I find it interesting that this instinct was man-made - by shepherds in the 18th and 19th centuries. After the Acts of Enclosure, lowland grazing ground was divided into fields all owned by one person or another, but the Cumbrian fells were left as unfenced common-land. This provided a communal grazing resource, with rights given to
farmers to graze their sheep on individual sections. But the sheep could easily stray for miles - so the shepherds taught them to stay put. Through breeding their own flocks, and rearing lambs in exactly the same places year-on-year, farmers have maintained this hefted instinct for hundreds of years. These sheep
belong
.
This isn't a rural affairs blog, I know! But give me time and I'll explain why it's an interesting way of thinking about the spatial.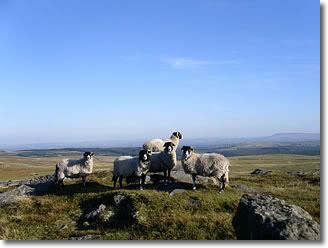 1. Foot and mouth disease in 2001 was disastrous for this way of farming. It disrupted traditional patterns of moving sheep between high and low ground, and a couple of seasons of lambs were born un-hefted - making them a liability to keep on the rugged fell-land. Consequences: this is really interesting for thinking about the timescales and durability of tradition. On one hand, hefting produced by shepherds 250 years ago has lasted. On the other, it's so easily disrupted...
I can also see a really good PhD proposal here! About the problems of government intervention into rural life not properly understood, and competing spatial knowledges - hefting versus the language of proximity and contamination of foot & mouth management. (When, in fact, there were other strategies for stopping foot & mouth, such as inoculation...)
2. Really good article in the Independent yesterday about declining rural people and ways of life:
Another country: whatever happened to rural England? - Richard Askwith
I then want to cross-reference it with this one in the Times:
Are you hefted? If not, that's a pity - Ben Macintyre
The point of intersection: what about
people
being hefted? What would that entail?
There are clearly some similarities to the Welsh concept of
hiraeth
, longing or homesickness - the same instinctual desire to be in a particular place, and feeling rooted there. But
hiraeth
is a word more often used by sentimental Americans tracing their genealogies - I think 'hefted' is more rigorous. The Independent article mentions a farming woman, 83, who has only ever spent one night off her farm, and never been further than Exeter. Now
that
is being hefted.
I love and adore the City, and City life and streets and space, and refuse to take any future path that leads away... But that's not being hefted, that's not enough. I wasn't born here (few in the City are: it's a destination aspired to & chosen), my parents and grandparents before me weren't born here, and I keep moving between neighbourhoods of the City in search of a better flat! Perhaps the only heft I can claim is at the scale of England itself, not just in terms of inherited roots, but an instinct that's expressed very much in terms of relations to the landscape (the heath, the birch trees, the moor...) And a great-uncle, the last of the family to farm, who does indeed keep sheep on the the uplands of the Dales...