Just an ordinary North London road, scruffy and shabby with newsagents and kebab shops. When I moved to the City I didn't like these places, so different to the pristine market town where I grew up. But it's home now.
Even before 2008 many shopfronts were battened down or whitewashed over: longer-term shifts in economic geography than recession drove businesses out. Flats on this road are starting to be visibly gentrified - I live in one such block and there's a decent (clearly architect-driven) refurb just round the corner. But there is little demand for business here any more, only corner shop chicken shop pizza place. The odd laundrette; still internet cafes, a reminder that the internet is not exactly the great leveller; many are still economically or culturally excluded. Little more. These are some of the shops shuttered and left behind: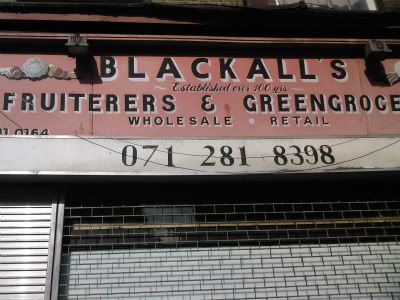 Blackalls Fruiterers and Greengrocers, established over 100 years. Closed now, closed at least fifteen years if its phone number began not 0207 or 0171 but 071. And the tenant just pulled the shutters down and left - the landlord has not re-let the space, has not converted into a fried chicken emporium or poundstore or fought the council for reclassification as in-demand residential. Just left.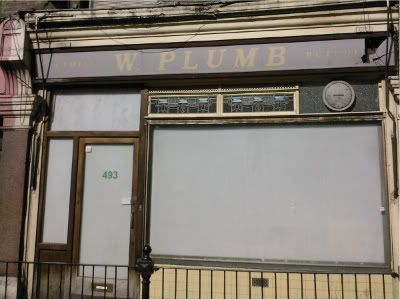 W. Plumb the butcher has a beautiful old-fashioned sign with even a little stained glass. Where did he go? How did he feel about closing the business, about giving up hope of becoming W. Plumb & Sons, or perhaps Daughters? I cannot imagine this road with a proper old-fashioned independent butcher on it - what was it like, did it have community that extended beyond council estate dwellers? (
Do
they still have community, or do I romanticise? I know we middle classes have lost it.) This has always been a working class area, my block of flats one of the few visible signs of gentrification - but for it now to have a proper family butchers like this would be such a posh thing: how Highgate, how Crouch End.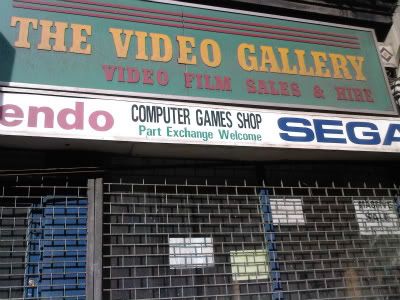 Perhaps a more recent casualty - or not: Sega's Dreamcast (2001) was a failure, and the Saturn (1995) not much better, so would this branding date back to Megadrive days (1991)? I spoke to the chap in North London Models - not a brothel, a model aircraft & toy car shop, a relic still going on no visible sales at all - who dated the loss of these shops to the early Nineties and, presumably, the recession then. Further down the road there was even a bank, the Natwest form now sitting above somebody's kitchen still visible under layers of paint. Was this area once a highstreet, a community, a functioning economy? A destination? Now it is just a road for transit through to other places.