Enough cultural whiff-whaff (as our Dear Leader Mr Johnson might say): the city's made of money. Made of capital, if you will. And I love money: I find it fascinating.
The Rat and Mouse
is a key real estate economics blog, but its focus is largely residential property - as indeed is most newspaper coverage. Subprime residential mortgages in the US may have kickstarted the whole credit crunch - this was something I watched kick off from a ringside seat in real estate research; fascinating - but it is in fact commercial real estate that has seen the biggest falls. You thought 22% peak-to-current fall in house prices was bad? Try a 50% crash in office values.
Furthermore, whereas subprime mortgage securities may have been the catalyst of the crunch, it is commercial property that yet remains to kick the banks in the teeth. They lent too much against this sector, and have not yet written down these loans and deleveraged these securities. Savills say almost all property investment loans made between 2004 and 2007 are now in negative equity, yet banks are extending loans rather than crystallise their losses. The last couple of weeks have seen green shoots emerging in the economy much earlier than anyone really expected - Darling may have been mocked for his Budget, but now Q3 growth looks a real likelihood. Yet with these lending problems ahead, do you really want to bet against a W-shaped double dip coming up after Christmas?
What I haven't seen is much discussion of what this implies for the urban fabric. With companies cutting back on staff and the near-cessation of merger & acquisition activity, demand for office rentals is down as companies aren't needing to trade up to larger spaces. (The falling rents drive part of this 50% collapse in values discussed above: commercial property is an investment class so its value is based on its yield.) Increases in availability and affordability combined with the current mood of caution may mean that demand will hold up best in traditional centres: City, West End and a bit of Holborn. Your Victoria, Paddington and Kings Cross developments? Aren't going to get the big tenants they'd counted on, and new developments are visibly being put on hold as they fail to be pre-let before completion. Additionally with prime office space more accessible, demand for shabbier secondary offices will surely decrease. If summer is as hot as forecast, how much tolerance will there be for poor or no air conditioning? There's a lot of 1960s and 70s space that, at least superficially, looks to be beyond refurb. Yet demolition costs money, and there's little pressure for new development sites yet.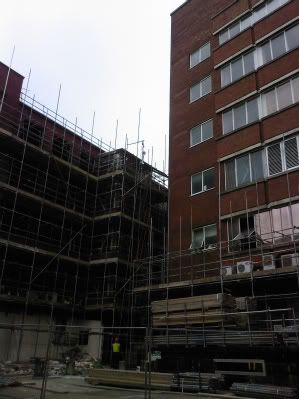 City Project says it'll be a prime summer for exploring abandoned buildings...