Cycling geography is awesome. Yesterday a nice brown paper package dropped through the post:
Local Cycling Guides from Transport for London
. Maps! Now, maps on their own make me happy - it's geeky, but I love to see how everything connects up, and that passion isn't dimmed by however much
critical cartography and Brian Harley
I read on the power relations involved. Yet in that context these maps are particularly exciting. What they do is re-write the entire fucking road system.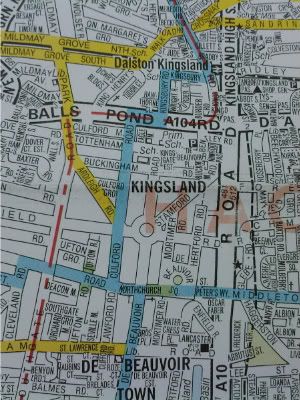 Roads are what make my mental map of the City more than an atomistic collection of buildings and destinations. From the distinctive shapes of the Imax and the South Bank you glide over the river on Waterloo Bridge, swing round the Aldwych, progress up Kingsway past school and the coffee shops, then the Bloomsbury artery of Southampton Row turning into Woburn Place and the difficulties of crossing Euston Road... Maybe Hampstead Road up to Camden High Street past all the council highrises named after places in the Lake District, or up the strange nothingness of York Way with its empty railway sheds and redevelopment that still doesn't look like the architect's pictures... Roads are how I think of the city, and these main roads provide the arterial framework by which I can understand relative location and compass direction and distance.
What's fantastic about these cycling maps is that they upturn that hierarchy. Cycling on high-traffic main roads being scary and dangerous, they structure an alternative network of routeways on low-traffic back roads, utilising every bit of canal towpath and park and standalone bike lane in the capital. Despite studying my well-worn A to Z and knowing my neighbourhood well, I had thought that most journeys I'd need to take would involve these main roads: that they were the straight lines down to Old Street and Camden and Angel, and that backroad routes to these places would be twisty, torturous, too complex to remember.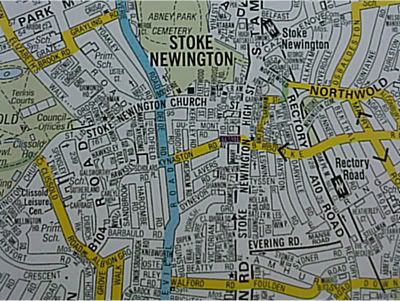 No! On these cycling maps the major roads fade into the background of black and white, a network of blue and yellow routes drawn above show the sensible ways to go. Yellow roads have been recommended by cyclists as quiet, safe, good alternatives; blue routes may be on busier roads but are at least specifically signed for cyclists. Caledonian Road? Take Hemingford Road. Use Nevill Road to avoid busy Stoke Newington High Street. Highbury Fields and Drayton Park take you to Finsbury Park the safe way; here's a zigzagging (but signed) back route that gets me to Camden without either Holloway Road, Camden Road, or death.
I love it, and want to try it out - every route, every option. This is a new city opened up before me; let these alternatives harden themselves into my mind as my thighs harden into granite with all this practice. Who knew Transport for London made heterotopias? Because this is a heterotopia, I think - an inverting of the usual order of things; a utopian dream of roads for people not motors; a blend of real and imagined; blue and yellow lines of what should be drawn upon the grey map of what is.