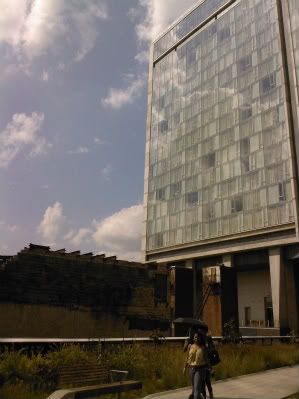 City Project is just back from another great city: New York. The High Line park was opened in June, a much-publicised urban oasis on the site of a former rail line running up the West side from Gansevoort St to 20th. The regeneration had been kickstarted by the
2000 photoseries from Joel Sternfeld
, showing the park abandoned, recolonised by nature, a beguiling secret space raised up above the city's awareness. It was beautiful. Now, designed within an inch of its life by James Corner Field operations and Diller Scofidio + Renfro, could the High Line retain any of this magic? My lover was not sure, and wrote to me about this... Then I went to see for myself.
He wrote:
I've just been up to the old elevated train line that was converted into a park. Near sunset, a rosy evening, lots of people on the streets, drifting out of gallery openings between 20th and 25th.
A park like that could have been a wild place, stolen from the city, but it was as sterile as an architect's drawing. Signs said "Keep it wild, keep to the path" - as if you can call anything wild when it grows in a sprinkler-irrigated patch of gravel that's not so much cultivated as curated.
At one point along the path the viaduct crossed the corner of a low building's roof. Broken chairs, old TV sets, statues with their heads replaced, hand-painted signs, hinted that the roof had once been a gateway to this place - what was now a public park had been someone's secret playground. I'm not sure the city's richer for the change.
Even landscape architects couldn't rob the place of all its character, though. There were views over the glass and steel of Chelsea, but more impressive were the points where the path passed through or under buildings. There was one that I found particularly striking - a high modernist grid of green glass and grey tiles, perched on tapering legs. As you know I'm not a fan of the international style, but there was something about the evening light on that smooth green surface that I found oddly moving. It seemed to call back half-formed memories from my early childhood - the wind on the sea, and something else I couldn't bring to the surface. On the way back to the subway all the greens and turquoises were peculiarly vivid. I bought a notebook to write this down for you before it faded.
You should go there when you're over, one early evening when the galleries are open - maybe write about it for the City Project.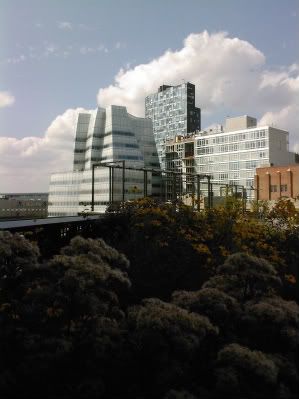 My response:
I liked it. I'm not sure I have a defensible reason for liking the park as a concept, but certainly the planting was excellent. Fashionably loose, dominated by grasses and big drifts of colour without structure - all annuals that will die down in the winter, no shrubs - it reminded me strongly of another Chelsea: the Chelsea Flower Show, highlight of the British garden design calendar. The late summer prairie planting contrasted against the austere running lines of the concrete pathway and slick benches; the ecological design selecting the silver foliage and meadow plants that can handle the exposure and shallow soil and extremes of climate; the repetition of design elements and a limited number of different plant types - this is all very now, very chic. It's innovative to see this style escape the private garden for the public park, a space so long the domain of regemented beds of pansies and busy lizzies.
Its naturalness is to be sure a faux-naturalness, an aesthetic covertly overtly created - but the idea of the secret derelict nature reserve that was there before is surely too fantastical to be true (I never saw it, did you?) so what else can the High Line be now
but
fictive? The concept of a park on stilts, while a happy (hard-fought-for) accident, seems more like a borrowing from the Far East - Hong Kong, or Tokyo, where you don't walk consistently at ground level anywhere. It is designed for such an international audience (perhaps urban studies-educated visitors such as myself most of all!) rather than the
utility
of any local residents - park utility as in such civil functions as public gathering, grass and trees for those without gardens, space jogging and team sports and whiling away afternoons. No: instead it is surely a space in which to promenade one's small overpampered lapdog to attract another lapdog/metropolitan owner combo of appropriate sexuality; a purpose-designed space for showing off and dating? How utterly NY!
Of course, it's not exactly a free public space or much of an opening for civil society. Has any park been such since the cruisers were kicked out of Russell Square and Tessa Jowell tried to deny Hyde Park to the war marchers? The normative nature of parkspace (no camping no barbeques no music get your public assembly licenced plz) is just a little more visible on the High Line, its very shape in its elongation forbidding any crowd gathering, its entrances so easily sealed off. Perhaps the private garden style design is telling here. This loose, natural planting is meticulously tended by gardeners wearing chic pastiche Chinese peasant hats as they labour on their knees in the relentless unshaded sunshine. It's very picturesque, even labour becoming an elegant spectacle. Do you think they have health insurance?
The High Line is absolutely a bastardisation of what was there before - but the whole of Chelsea is the self-same thing, a district playing at very high-end faux dilapidation with its warehouse art galleries and stripped-down designer clothes stores; it has got the park it deserves and maybe that is excellent site-appropriate design. We're in the wrong part of town to design a park for the poor, darling.
An ambiguous defence, I know. I instinctually liked it, and yet it is unquestionably a problematic space. But oh, such dilemmas are the meat of urban experience...