Posted 7 October 2009: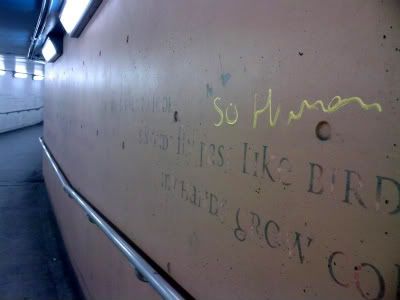 Update, 7 November 2009:
Apparently this poem - Eurydice by Sue Warren - is now gone, painted over by Network Rail last weekend.
Read more at Time Out
: they're calling it 'cultural vandalism'. As the artist says,
"This work was commissioned by the BFI and The Arts Council and, therefore, was installed using public money. Railtrack have defaced something they did not pay for without any consultation either with the BFI, the architect Bryan Avery or with me."
"...damp city streets, their sodium glare
of rush hour headlights pitted with pearls of rain;
for my eyes still reflect the half-remembered moon..."