West Central District Office of the Post Office, New Oxford Street / High Holborn, London WC1. Empty 10 to 15 years.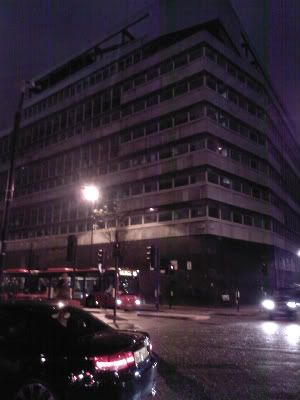 With eight floors each
apparently 4,400 sq m
, that makes for about 350,000 sq ft of vacant space. It's surely one of the largest abandoned sites in London and you would think it ripe for redevelopment - many other offices in 'Midtown' (commercial property-ese for Holborn) have been rebuilt recently. But no. This former stop on the Post Office Underground Railway line (which ran from Paddington to Whitechapel) is now used for occasional art events, fashion shows and product launches. The rest of the time it sits empty.
I got inside in 2005 when it hosted the exhibition
Küba
by Kutlug Ataman. 40 old teevees in front of 40 old chairs, each showing video of a resident of the Küba
gecekondu
in Istanbul. 'Gecekondu' translates as 'arrived in the night'; these are shanty towns built on squatted land, and six million Istanbul residents live in one, a full half of the population. And do Küba residents have stories to tell. It's a neighbourhood of dissenters, of Kurds, of fierce loyalties and crime and community and the longing to be able to escape.
Source:
Artangel
Still present, fenced off, were the postal chutes and sorting racks of the old post office.
Source:
Michael Bujkowski
on Flikr
I'm in two minds about what should be done with this building. In such a crowded, overpriced town as London such an enormous space shouldn't be wasted – and it is a waste for it to be empty or only hosting Smirnoff launch parties; it's not often that it gets an exhibition like Kutlug Ataman's. But redeveloping it into an enormous office complex, no doubt with a privatised 'public' square and chain brand cafes and bars, so big that only faceless finance or bureaucracy occupies it? Can't get excited about that, either. (Quite puzzled why the Post Office hasn't sold it off already though, given that organisation's perilous financial situation and looming pensions deficit... If the building's as big as I think it is, it must be worth £100 million plus.)
Social housing would be better than boxy 'luxury' flats; what about an arts space, a new Barbican for the West End? But I am troubled too by this urge to fill it – what if there is a case to be made for its imaginative value as an empty vessel, a void, pure space? It would make no financial sense, but perhaps that gaping absence of capitalist real estate logic could be the point.
People should be allowed in, though. One or two at a time. Able to run around, and scream, and climb on things and slide down the mail chutes and explore. Space to think, to breathe, to play. No question that that's what the city needs.