My
Regent's Canal walk
a while back was a beautiful but frustrating experience. For mile upon mile I passed the most desirable apartments: perfect geometry, perfect patina, perfect lifestyles on offer if you only had the key.
The key being, oooh, six hundred thousand or so? A cool million if you want a place in
the Wenlock Building
with its
chinchilla fucking carpets
... The waterfront warehouse: industrial chic in a calming canalside environment. The stresses of urban living soothed by that neighbouring touch of nature - drink your morning Gaggia-juice watching ducklings dabble past. Lateral space. Curving panoramic picture windows. High ceilings, light, and neighbours of a class worth networking with. What could possibly be nicer?
Such a lifestyle being even remotely attainable.
I do not even desire the highest end buildings (too luxury, not enough warehouse), but it struck me: this is pornography. Lusting after beauty made object, an object you cannot access in reality and yet long to own and possess. That dirty consumer indulgence of imaging where you'd put the grand piano, the cocktail cabinet, and the Andreas Gursky print, and the repeated daydreaming through particularly favoured scenarios. A fantasy life develops in which these things are yours and their lustre rubs off on to you; you become just that little bit more elegant, more urbane.
With a bacherlor/ette pad in this place, just imagine the sexual calibre of the affairs you would have...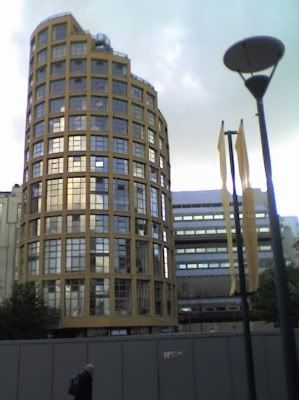 'Property porn' is, appallingly, included in the Collins English Dictionary, which describes it as "a genre of escapist TV programmes, magazine features, etc showing desirable properties for sale, especially those in idyllic locations, or in need of renovation, or both."
It has its a Twitter account,
@propertyporn
.
There's even a book about it, Marjorie B. Garber's
Sex and Real Estate: Why We Love Houses
, where she argues:
What do college students talk about with their roommates? Sex. Twenty years later, what do they talk about with their friends and associates? Real estate. And with the same gleam in the eyes. Real estate today has become a form of yuppie pornography.
But isn't this rather a softcore kind of porn, using the word only as a cheeky reference to having fantasies? Get us, aren't we liberal and naughty? Or hasn't online pornography also created (or facilitated) the sex addict, the dopamine junkie comprehensively scrambling his ability to find pleasure in real women and real sex through consuming this parade of hyperreal silicone and coffee-creamer cum shots? Porno-driven desire all too easily feeds a well of bitterness and frustration - the porn user's misogyny, a hatred for the gorgeous young things who make like they want him on screen – but in real life really don't.
That's where I want to take this 'property porn' analogy. Fantasy-land is a dangerous place, and I want to ask what it does to us to be surrounded by beautiful architecture and beautiful lifestyles that we'll never, ever be able to afford to have.
I find myself half envious, half bitter towards that older generation (my parents) who benefitted from the Nineties and Noughties housing booms - those people who bought low, saw their equity multiply, made it impossible for my generation to buy - and, while they were at it, have us paying off their buy-to-let investments' mortgages with our rental payments. Lovely for them, of course, but this generational inequity (confined to the middle class, admittedly, but that's most of us these days) is no social good.
Through desiring these homes I cannot afford, it's also easy to start resenting my current work in social research. Ooh, an LSE 1st and I might be able to earn £25k in about ten years' time? Christ, what the hell made me pick anthropology when I could have done maths and been a banker! Each time I desire an apartment I can't imagine ever affording, my earning ability, my choices, my value to the (economic) world are measured - and found wanting. Doing something inexplicable in finance starts to look really very rational, if else so much of the city (its homes, its shops, its restaurants and pleasure) can never, ever be mine.
An article at Counterpunch
comes to some similar thoughts:
How much was property porn responsible for the inflation of the bubble? Long before becoming chief executive of the housing charity Shelter, Adam Sampson did academic research on sexual pornography. He sees the two as having a similar impact:
"Pornography can make feelings and behaviours that are otherwise unacceptable seem normal. Property porn didn't invent the pastime of using houses to make money - but it gave it legitimacy."
Which is what is truly objectionable about property porn - it takes away the home, it takes away the love - and makes it a mere financial transaction.