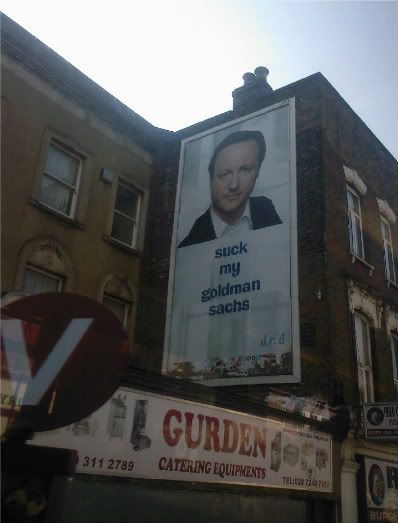 Stoke Newington Road, just north of Shacklewell Lane.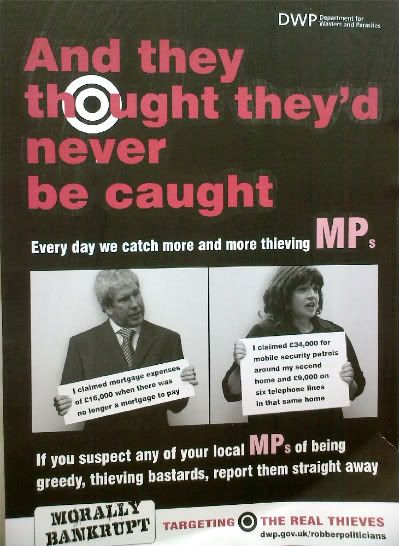 High Road, near Seven Sisters underground station.
Original government poster available
here
, and below: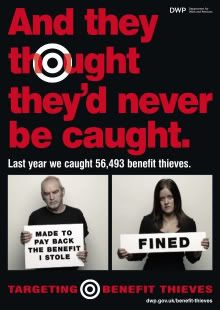 The ad agency's brief: "Redefining petty fiddlers as full-on benefit thieves." Or, 'scapegoating people trying to get by on an unlivable income as criminals.' Jobseeker's Allowance is all of £51.85 a week for someone my age. I'm counting the pennies living in this city on a graduate starting salary; damn right I'd be getting cash-in-hand work under the table if I had fifty quid a week for food/bills/my entire life. Wouldn't you?
East London charity Community Links says:

"From our experience giving advice to over 12,000 people each year in Newham, we know that almost all those defrauding the system do so out of need, not greed. They need a few hours work to tide them over – to pay a surprise bill, or replace the microwave. Declaring it to the Jobcentre would mean any earnings are deducted from benefits, leaving them with no extra money. Punishing these people is unfair, but also destructive – they need stepping stones to a job and higher income, not sanctions which push them further into poverty."
2008/09 figures from the DWP
show total benefits expenditure of £136bn. Out of this, fraud amounted to 0.8% (£1.1bn) - which we might contextualise by noting that £0.8bn of total spend was made up of overpayments due to official error. In addition, £0.5bn was
underpaid
due to official error, so the magnitude of government mistakes (£1.3bn of Getting It Wrong) is in fact rather more than dole scroungers scrounged.
Just so we can understand the scapegoating of the bottom 10% of society in proper perspective, you understand. Advertising won't have any impact on serious fraudsters. It'll do a lovely job of deterring those in legitimate need from claiming money they have a right to, though, and a campaign focused on "hunting down" benefits "thieves" uses such lovely aggressive language to exacerbate middle class prejudices and promote social inequality. Mmmm...