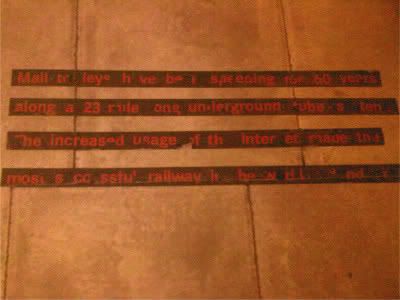 Mail trolleys have been speeding for 60 years
along a 23 mile long underground tube system.
The increased usage of the internet made the
most successful railway it_ be_n d_i___' _nd__r
On the pavement outside Central St Martin's art school, Theobalds Road, Holborn.
Mailrail.co.uk
and
Subterranea Britannica
provide context for this pavement tickertape: it's referring to London's Post Office Railway, an automated train system that took post from Paddington sorting office to Whitechapel delivery office. The 23 miles the sticker mentions is apparently the total length of track on the six mile route; the 60 years to which it refers is obscure, as the railway operated from 1929 to 2003.
Then again, informative historical facts are not really why I collect urban interventions like these.