I wrote last week
about Co-Create London, a project using "co-creation" methods from advertising & market research to explore what people want to see happen in London -
What would you do to make London a better place?
.
After a discussion forum last week, the
initial results are out
. Of dozens of ideas initially suggested by users on
Co-Create London
, the following three were developed into more comprehensive proposals:
BeSpoke Lanes – Cycle Paths running alongside railway lines
Enterpride – Turning disused properties & spaces into accessible cultural & retail hubs
Swap Stories – A Book Swap System for London Underground
I understand these ideas will soon be presented for voting online, and the one receiving the most votes will be presented to Our Dear Leader Mr Johnson. More news as it comes…
Books, cycling and marginal urban spaces – could they have chosen three topics much closer to my heart?** I was talking about the latter
last week
with reference to existing projects such as Spacemakers'
Brixton Indoor Market
, and it looks like Co-Create London has come up with something pretty similar:
London is full of disused and run-down spaces especially post-recession. Why not allow these spaces to be occupied by start-up businesses, artists, creative individuals and educational workshops?
Enterpride will facilitate the transaction between landlords willing to volunteer their property & Londoners wanting to use the space. Those occupying vacant spaces will have access to the property until they can afford to rent it, or an established business is willing to pay for the space. If users of the Enterpride scheme have their current space bought by an established company they will be assigned a new one. The only cost Enterpride occupants will have to pay are the business rates which are minimal.
The diagram from the co-creation session: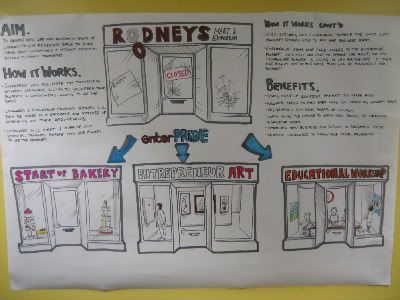 As mentioned, Spacemakers and other groups have laid a lot of the groundwork already, and already know how to build the necessary relationships with councils and landlords.
But of course that's a massive opportunity if the Co-Create London team are willing to contact these other projects and get them involved too. A group response based on both the public voting & cocreation and the real, practical experience of already doing this could be a really strong pitch. Perhaps contributors to
CoCreateLondon.com
suggested this idea unawares of parallel developments like Spacemakers, but co-creation isn't about 'pure' ideas or ownership or authorship, or anything so 20th century! I think it's about mashing up every source of ideas and knowledge available, and in this case there's a wealth of existing work out there.
I really hope the Co-Creation Hub are serious about making things happen, not just testing their methodology. (Fancy sharing who the "London experts" at last week's seminar were, by the way?) Go on
@cocreatelondon
, say hello to
@spacemkrs
… Though I hope you're ahead of me and already fast friends!
** Actually yes: writing stories
on the walls
of abandoned urban spaces, although I can see how they might prefer to present more practical possibilities to the mayor…