Back in May I went for a
walk round the Regents Canal
. The building below stood out: brightly marked as
condemned
a target for regeneration, yet nothing actually
generating
there - nothing, in fact, happening since April 2007. It is set for demolition in 2011, so what a strange four years for its remaining residents.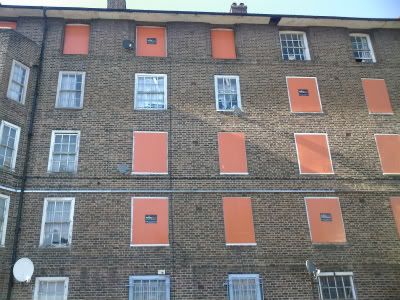 That's what Andrea Luka Zimmerman, Lasse Johansson and Tristan Fennell thought too. They live there, and have been documenting the Haggerston estate in a programme they are calling FLAT (see
http://haggerston-kingsland.blogspot.com/
. This is what they did: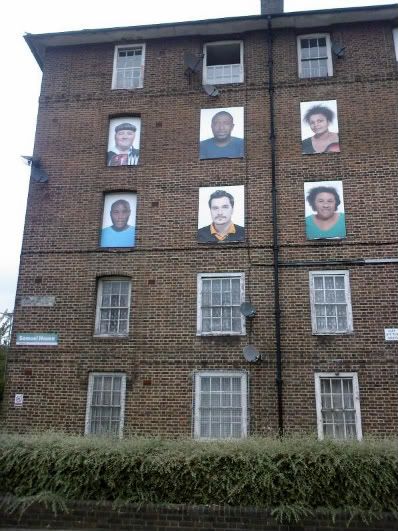 Boarded-up and half-empty housing estates have become familiar landmarks in the contemporary urban landscape. Their façades function as projection screens for collective fears and fantasies of troubled and dangerous environments that may lurk behind. This perception is all the more emphasized when rapid redevelopment encircles such estates with new luxury loft apartments and live–work spaces.

I Am Here intervenes in this dynamic of preconception and projection, replacing the 67 bright orange boards – which have covered the windows of empty flats in Samuel House since April 2007 – with large-scale photographs of residents on the estate.
"I am here", echoing the signs around the estate that inform you that "You are here". Perhaps critiquing this representation of 'here' as a geometric diagram, as if that's ever what being-in-place was really about. Claiming subjectivity, "I" - an assertion, an ownership,
the right to the city
- for all the people who aren't on the map bar a little red dot labelled "You".