There's a vacant patch of ground near my office. It's not large, an interstitial point behind some offices and next to a a low-rise council block, the post-war kind balcony walkways to the flats. 8x8 metres, let's say, the kind of space that's too small to develop and not big enough to bother about.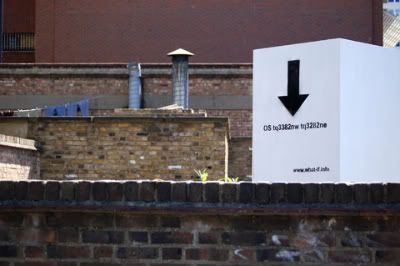 Instead,
What If projects
, an urban sustainability architecture practice, have got 70 half-tonne bags of soil and turned it into an allotment space for the local community. They say it's made the place "a beautiful oasis of green" - green yes, urban oasis yes, beautiful not so sure the plastic bags of soil are really that aesthetically appealing - even if they were commissioned to install the same thing for the opening of the Louis Vuitton store in Westfield shopping centre, see photo below. The latter being such a strange juxtaposition makes somehow the soil bags more appealing - they may be ugly but curation by Jeremy Deller, Turner Prize Winner 2004, makes them art? No, that's too hierarchical an attitude to take - but there's still a joy to be found in this disruption of pristine designer commercial space, even if the fact that it's there at the invitation of the shop itself makes it hardly radical.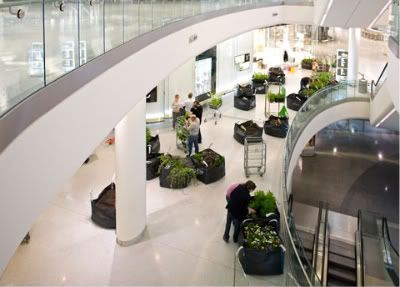 This space is distinguished from a void by its big enigmatic white sign, showing only the OS grid reference, an arrow, and their web address. What If call this space
Vacant Lot
, and they've got more grow bags on another stretch of Chart Street, plus
Plant Room
on neighbouring East Road and a dozen more projects.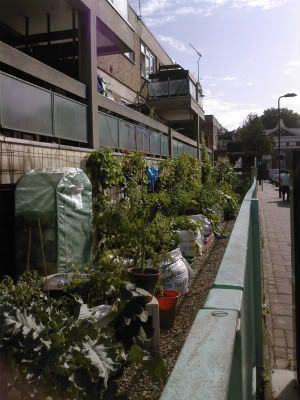 They then do more theoretical work, such as
Modesty Screened
, looking at temporary inhabitable environments formed without formal architectural intervention. Again, their examples are super-local to me - e.g. the garden centre on Caledonian Road. They write:
PROPOSAL
In UK cities approx. 70% of urban space is residential and planning authorities positively encourage residential-use over other activities. By taking advantage of the slowness of the planning process, areas of the city (i.e. unused sites, disused infrastructure, empty parking garages) could be used temporarily in this way.

This model can be developed in two directions:

1. On a strategic level to encourage the temporary use of existing `unused' sites within cities. Activities within these sites can expand to encourage other uses for example: urban agriculture, educational facilities, office / workshop space, arts and entertainment, residential, etc.

2. At a programmatic scale this model can be developed to see how it could influence the spatial and programmatic design of new mixed-use urban developments.
More about this to follow, I hope - I'm really excited by it both theoretically and because, well, I too am an urban dweller without a garden, and I'd love a chance to get my hands dirty with such a practical activism/intervention.