Last night's walk provided an apt case study for recent ideas about empty properties (see
here
and
here
) - albeit in a commercial rather than residential building. This shop, once Shoe Studio, sits - of all places - on Covent Garden itself, on the corner with James Street heading up to the tube. In terms of raw footfall, this site is surely as busy as Oxford Street. Yet, like much of Oxford Street, its landlord seems to have been struggling to attract quality retailers; the no-brand Shoe Studio went into administration in March 2009, and the shop has sat empty for eight months.
They left but failed to turn off the lights - with such irresponsibility is it any wonder the store failed? But, oh, what an aesthetic abandonment. The surfaces are so white and smooth yet the glass in the windows is dirtying slightly under the carbonate trails of the rain. Stripped of any saleable merchandise there is only the rectilinear calm of the shelving and its backlit glow into the night.
Are there ghosts here? Covent Garden has quite the history but this space is too antiseptic; without occupants you might call the shop disembodied but yet it never had a soul to lose. There's a sign on the windows promising 'new collection' but the doors are chained shut.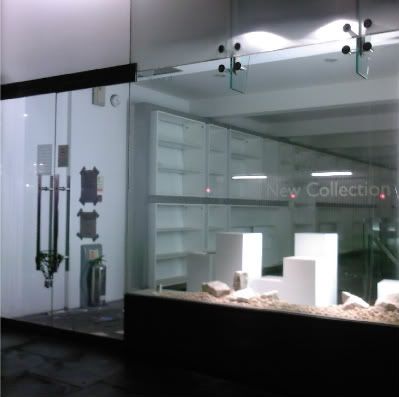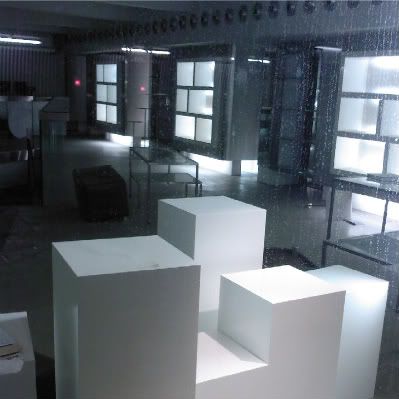 Related comment from Retail Week:
Covent Garden's landlord has plans for rejuvenation
(June 2009):
Many of the problems with the market stem from Covent Garden's mass of smaller streets surrounding the main piazza and the dozens of landlords that have claimed a stake in the area since 1913 when the main estate was first sold off by the Duke of Bedford. Because there have been so many parties involved the retail offer has grown up relatively untamed, with a wide range of shops now occupying the streets.

Three years ago, Capco bought the Covent Garden Estate from Scottish Widows for £421m. Since then it has expanded its reach in the area to the point that the landlord now controls 750,000 sq ft of land around the market – which is most of Covent Garden. It is this huge dominance of the area, lacking since 1913, that gives Capco the opportunity to finally improve the offer. It has the luxury of being able to take a unified approach to planning the retail.